Optimizing the Use of Village Funds, Bontihing Village Collaborates with the Faculty of Engineering Design Village Administration Office
Posted by: Admin
Rabu, 12 Januari 2022
Has been read 35 time(s)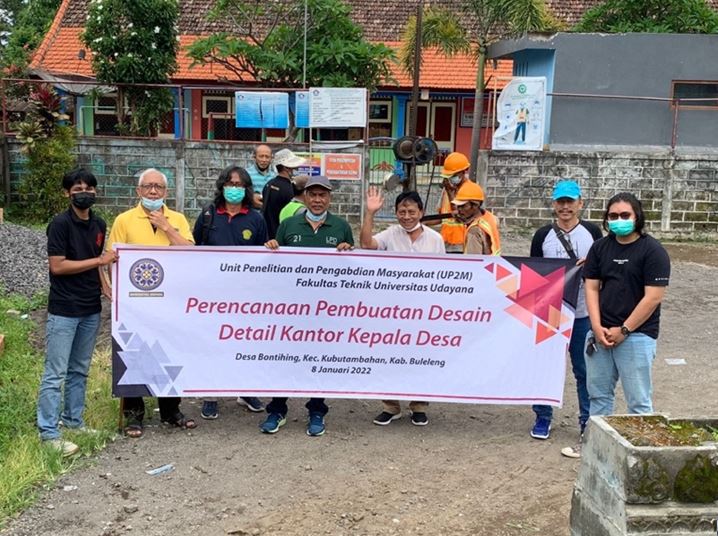 The Research and Community Service Unit of the Faculty of Engineering, Udayana University carried out community service to Bontihing Village, Singaraja on January 8, 2022. In this dedication, the team led by Prof. Ir. Made Sukrawa, MSCE, Ph.D focused on dedication activities for making detailed designs for the construction of the Village Administration Office. The details of the implementation of the activities start from the land/site measurement stage, data collection of the carrying capacity of the soil with sondir and drill equipment, implementation drawings, budget and cost calculations. This soil data collection is needed to determine the depth and size of the building's foundation.
The dedication team is a combination of Lecturers from four Study Programs in the Faculty of Engineering, namely the Architecture, Civil Engineering, Electrical Engineering and Mechanical Engineering Study Programs. The four study programs involved have the experience, competence and specific knowledge needed in designing building construction. The team departed from Sudirman campus with a total of 14 people consisting of 8 lecturers and 6 students and then received directly by the Bontihing Village Head. Before doing the survey, the team held discussions with village officials.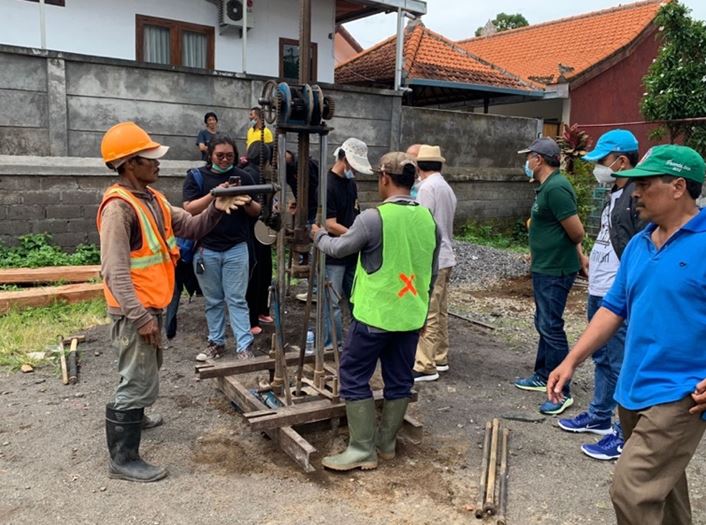 In the discussion the Head of Bontihing Village, Mr. Gede Pawata said, the construction of this village administration office was planned to use village funds from the central government. However, due to the limited available funds, the detailed planning of this building requested assistance from the Faculty of Engineering, Udayana University, which does have competence in this field. The application letter sent from the village of Bontihing was warmly welcomed by the Dean of the Faculty of Engineering, Ir. I Ketut Sudarsana, S.T., Ph.D who then through UP2M immediately formed a joint community dedication team.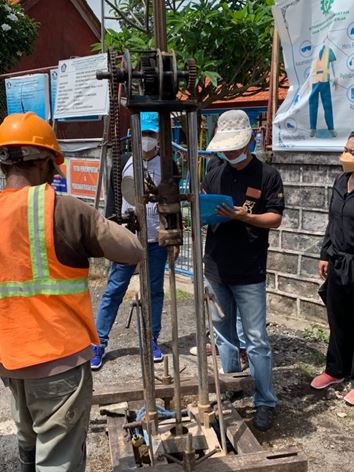 The team that carried out the service to Bontohing Village also included students and brought some laboratory equipment in the form of sondir and drills from the Soil Mechanics Laboratory. This equipment is used to obtain the bearing capacity of the soil at every certain depth interval (every 1 meter, 2 meters, etc). Student participation in community service aims to increase student competence in applying the knowledge gained from college into real life. This Community Service is expected to provide tangible benefits to the community from the implementation of the Tri Dharma College of the Faculty of Engineering, Udayana University. (*iks/ksw)