Ormawa PPK Team, Faculty of Engineering, Udayana University socialization the SIGUNA application in Gunaksa village
Posted by: Admin
Selasa, 12 September 2023
Has been read 69 time(s)
Monday, 11 September 2023 Located at the Gunaksa Village Multipurpose Hall, coinciding with the Paruman Desa Adat (Paum Desa) Gunaksa PPK Ormawa conducting socialization of the SIGUNA application. The outreach was carried out to almost all the Gunaksa villages or communities, carried out by the Head of Gunaksa Village Headquarters together with the Ormawa PPK team. This activity was attended by almost the entire Gunaksa community, as well as traditional village figures and village officials, including Mr Perbekel, Village Secretary, KBD, Village Head, Digital Cadres, Bendesa and their apparatus, Kliat Banjar and Kliat Adat, Village Enforcement and other Traditional Village elements.

Mr Perbekel explained the progress of the SIGUNA application and village digitalization which had been designed by the Ormawa PPK team together with elements of the village government along with Udayana University and the district's Digital Ambassadors. Mr. Perbekel also said that the Siguna application includes four services starting from population services, which include approximately 22 correspondence services, as well as health services, financial services and smart village services. In the future, this service is expected to support the six pillars of Smart Villages, of which Gunaksa Village is one of the villages designated as a Smart Village pilot.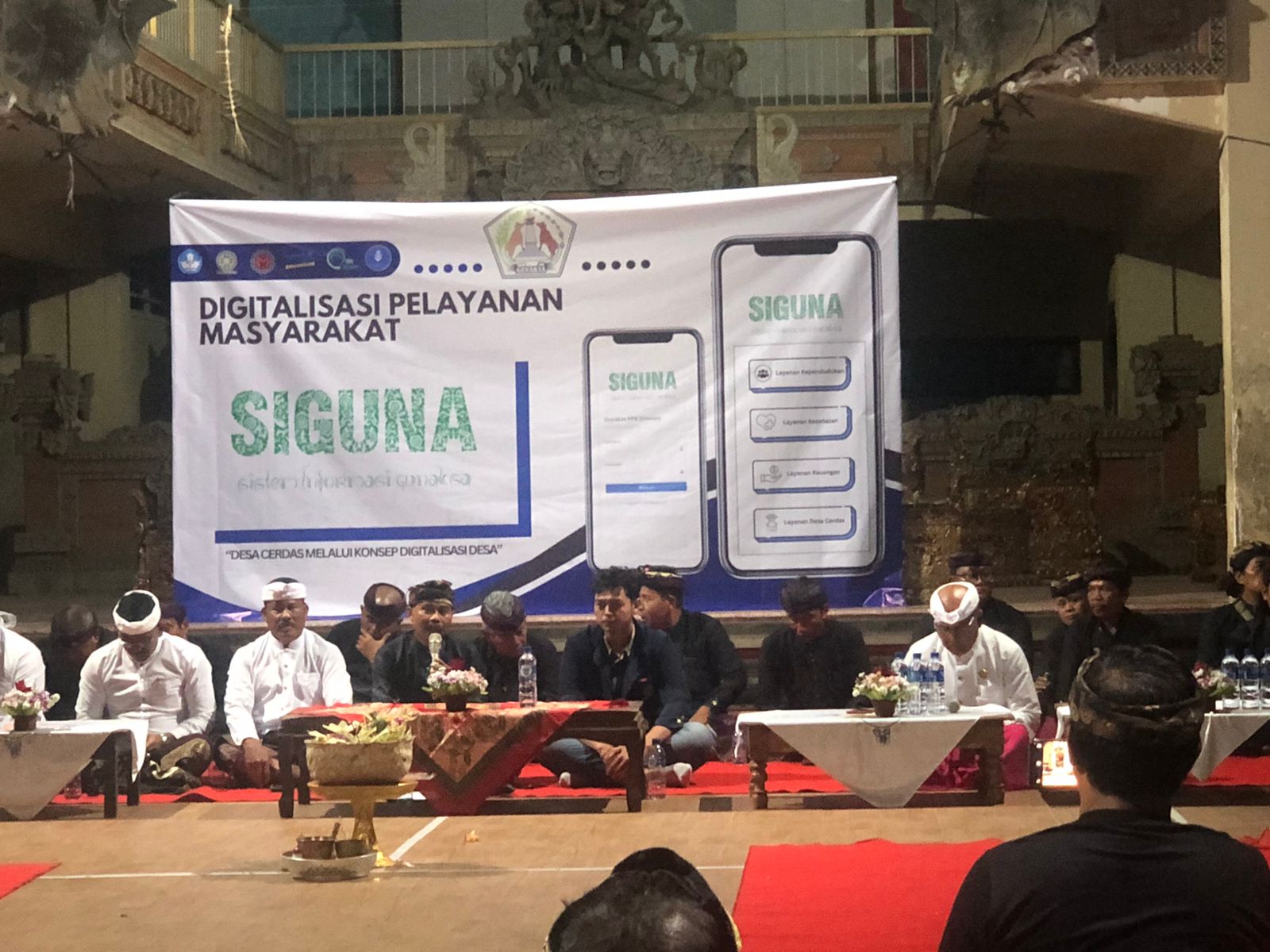 Smart village services will also be targeted to become a means of socializing Awig Awig Village so that the community as a whole can know the contents of Awig Awig in Gunaksa Village. Mr. Perbekel also said that the Ormawa PPK Team will target the SIGUNA application to be launched at the end of September. The people of Gunaksa Village, with this application, are expected to be able to enjoy village services without having to go to the village office and can also get information related to health services and other information through this application.
On this occasion, the Supervisor, Dr. Ir. Wayan Nata Septiadi, ST., MT who accompanied the activity. Mr. Perbekel also conveyed that the Ormawa PPK team has been active since July and has carried out various mentoring, coordination, FGD and other activities accompanied by supervisors as well as from HMM, the University and Digital Ambassadors. Monitoring and evaluation by the University has also been present in the village several times.